What is emergency lighting?
Generically it is lighting that automatically comes on when the power source is removed. However, there sub categories of emergency lighting:
Emergency escape lighting – that part of an emergency lighting system that provides illumination for the safety of people leaving a location or attempting to terminate a potentially dangerous process beforehand. It is part of the fire safety provision of a building and a requirement of The Regulatory Reform (Fire Safety) Order 2005.
Escape route lighting – that part of an emergency escape lighting system provided to ensure that the means of escape can be effectively identified and safely used by occupants of the building.
Standby lighting– that part of an emergency lighting system provided to enable normal activities to continue substantially unchanged. This guide does not include standby lighting as it is not a legal requirement and is a facility that may or may not be needed, depending on the use and occupancy of the premises, etc.
Minimum inspections
Daily: emergency lighting inspection (only for central back-up systems).
Monthly: All emergency lighting systems must be tested monthly. The test is a short functional test in accordance with BS EN 50172:2004 / BS 5266-8:2004. The period of simulated failure should be sufficient for the purpose of this test while minimising damage to the system components, e.g. lamps. During this period, all luminaires and signs shall be checked to ensure that they are present, clean and functioning correctly.
Annual: A test for the full rated duration of the emergency lights (e.g. 3 hours) must be carried out. The emergency lights must still be working at the end of this test. The result must be recorded and, if failures are detected, these must be remedied as soon as possible. It is common for fire alarm servicing companies to carry out the annual emergency light 'drain' test at the same time as they carry out fire alarm system maintenance, as this fills the waiting time of the 'drain' test with useful activity.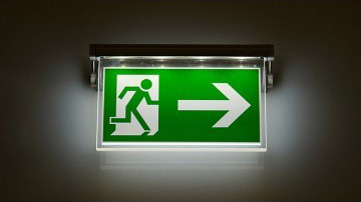 Caldera FS offers a complete business Emergency Lighting solution including:
Design
Installation
Commissioning
Service and Maintenance
Caldera have provided us with outstanding service for over 5 years at a number of Leisure Centres. Always flexible and helpful they offer a one stop solution for all our fire and security needs.Danny Churcher, Contracts Manager - Parkwood Leisure