Access control enables you to control who has access to your building. Locks and keys also allow you to secure your building, but when keys are lost or stolen, the inconvenience and expense of changing locks and re-issuing keys can be considerable. Keys may also be copied, creating even more security risks.
All businesses, whether small, medium or large, have assets that need to be protected from theft. There is also the issue of protecting staff and their property. It is common in buildings that are secured by locks and keys for doors to be left unlocked all day. This opens up the possibility of opportunist theft and malicious damage.
Once an access control system is installed, all doors controlled by the system will automatically lock when the door is closed. Anyone without a PIN or access token is unable to enter.
Access control can be used to secure one door or multiple doors, on individual or multiple sites linked together and controlled from one point. One or several access control doors can be controlled by PIN, proximity fob or swipe card at the same or different buildings. Access control systems are extremely flexible and can interface with CCTV to provide security for your staff, customers and property.
If you're thinking of installing an access control system then call Caldera to discuss the right solution for you and your business.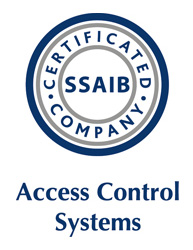 Caldera FS offers a complete business Access Control solution including:
Design
Installation
Commissioning
Service and Maintenance
Caldera's installations have helped in several high profile arrests. This company also sits on our insurance review panel meetings and has a valuable role to play in securing the correct level of security.Crown Golf